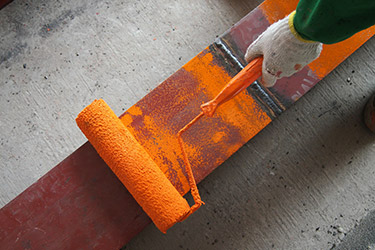 With more than 20+ years of experience, Goldbrush Painters are industry-leading specialists in industrial painting applications. As industrial painters serving Ontario, we pride ourselves in our ability to deliver a superior service with a solid commitment. Further, it has become our habit to surpass the expectations of our commercial, institutional and industrial clients. Everything Goldbrush Painters do is environmentally friendly and conscientious, especially in Brampton.
As with all painting, preparing the substrate surface is key, and to ensure that it's done properly, we train all of our industrial painters to go through a rigorous assessment process. In this evaluation, our industrial painters are attempting to determine the surface prep technique that is best suited to the surface at hand. This is done in an effort to ensure we are capable of achieving long-term coating integrity. Our methods of preparation are limited, but effective and they include shot blasting, sand blasting, pressure washing and water blasting.
Our industrial painters are capable of providing a comprehensive range customized commercial and industrial coating applications, factoring in localized environmental and atmospheric conditions. Our coating selection process depends largely on a few parameters including adhesion, chemical bonding, wear and tear resistance, planned maintenance schedules and cost efficiency factors.